Guest Blog Post by Kelly Pratt and Karen Pratt, co-owners of Sprinkles of Joy Bakery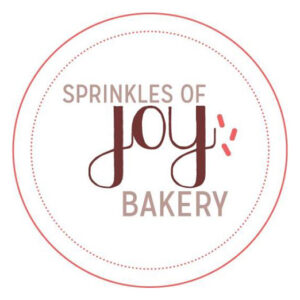 Sprinkles of Joy is settling into old town Newberg, and becoming a comfortable place for friends and family to gather together and enjoy some delicious treats from the bakery case as well as a refreshing Sips of Joy soda drink, a hot Cup of Joy coffee, or a satisfying cup of tea.
Karen and Kelly, mother/daughter duo, added their first part-time employee, Alyssa, in June and she is excited to welcome you into the shop and help you with your bakery selections. Kelly has been so crazy busy creating beautiful and fun custom orders for our customers that we are needing to add another part-time employee to the bakery team to help her out. If you know of anyone looking for part-time employment and they have a passion for baking and creating beautiful, edible artwork, please have them contact us at sweets@sprinklesofjoy.net.
We love the fall and holiday seasons and they are right around the corner!! We can almost feel the cool, crisp air (maybe more like wishful thinking right now!)
Sprinkles of Joy would like to help students kick off the start of the new school year by offering them a free chocolate chip or sugar cookie! Students are invited to stop by the bakery between September 7th through 11th to pick up their treat.
Beginning this fall, we will be adding a few more breakfasty items to our offerings. Be on the lookout for fruit & yogurt parfaits, ham and swiss cheese croissants, cheese danish (with a side of triple berry compote), and quiche. We will continue to offer our scones and coffee cake each day as well as cinnamon rolls on Fridays and Saturdays. And, of course, our case is always stocked with cupcakes, classic cookies, gourmet cookies, and other delicious treats!
We love all of our offerings – but are SUPER EXCITED about one more newbie that will be added to our menu this fall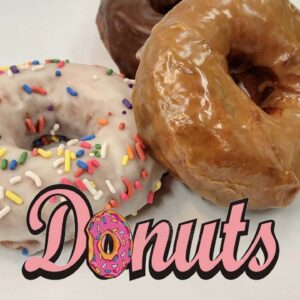 Kelly has been perfecting her donut recipe and we will begin frying up FRESH DONUTS very soon!
You can find our weekly menu on our website, sprinklesofjoy.net, and be sure to follow us on social media. You will enjoy Kelly's postings- they may even make you drool! We would love to have you stop by the bakery, introduce yourself, say "Hi" – and pick up a sweet treat or two.
Sprinkles of Joy Bakery is located at 621 E. 1st Street in Newberg. We are open Tuesday through Friday from 9am – 4pm and Saturday from 9am – 2pm. We are also open on the first Friday of the month until 8pm. We look forward to seeing you soon!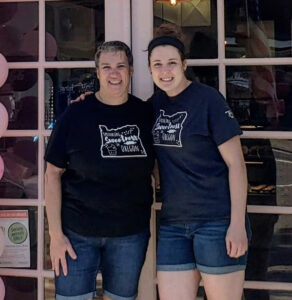 ABOUT THE AUTHORS—KELLY PRATT & KAREN PRATT
Kelly Pratt and Karen Pratt are co-owners of Sprinkles of Joy Bakery in Newberg, OR.