Celebrate the Bounty and Art of Lavender in the Willamette Valley!
This July, the Willamette Valley Lavender Festival & Plein Air Art Show returns for its 18th year as a regional celebration of lavender, art, food, and exceptionally-made crafts. This unique and festive event brings local lavender growers and the community together.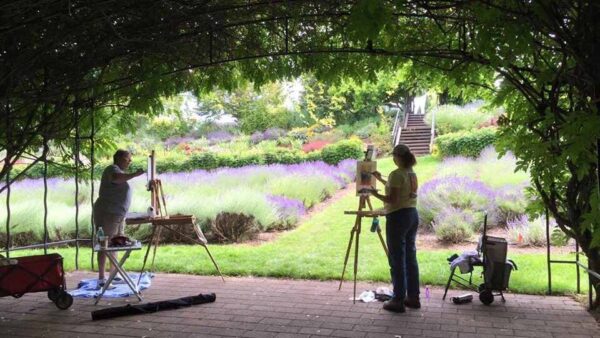 More than 150 artists – both professional and amateur – will take to local lavender fields to paint en plein air and capture the beauty of the aromatic plant and its surroundings. All pieces will be displayed and on sale as part of an exhibit in the Chehalem Cultural Ballroom and juried by professional Northwest artist Barbara Van Dyke.
During the festival, attendees will be able to explore the offerings of over 60 local artisans and crafters displaying items that showcase lavender in a myriad of forms. Fresh lavender will also be for sale, donated by Wayward Winds Lavender Farm with sales benefitting the Chehalem Cultural Center and its public programming.
Over the two days of the festival, local musicians will be showcased on the forecourt including: Robi Johnson, Eric Ching Drums, Ellie and the Oaks, and Roundhouse Band Duo.
New activities for 2023 include special workshops and demonstrations and a children's clay craft onsite.
Alongside the Festival, Chehalem Cultural Center will be showcasing a special exhibit – Legends of Lavender –  in the Parrish Gallery to celebrate the history of the Northwest Lavender Paint Out and feature artists & others that have in one way or another made a splash in the Lavender Paint-Out over the years
The Willamette Valley Lavender Festival & Plein Air Art Show is free and open to the public, taking place from Saturday July 8th from 10am – 6pm and Sunday, July 9th from 10am – 5pm at the Chehalem Cultural Center located at 415 E. Sheridan St. Newberg, OR 97132.
Event Sponsors: Chehalem Cultural Center, Roundhouse Foundation, Wayward Winds Lavender Farm, Durant at Red Ridge Farms
Web URL: https://www.chehalemculturalcenter.org/lavender