Guest blog post by Taylor McLean-Down, YCAP Development Specialist

On behalf of YCAP and as the new wrangler of all things cheese, I am pleased to announce the fifth annual The Melt Down Fundraiser kicking off on February 1st, 2021!  During these unprecedented times, we are thrilled to be bringing this event to the community to raise funds for the YCAP Food Bank while also helping our local participating restaurants and businesses.
This year, a Sandwich Map will be available to anyone who wants to join in on the fun!  The map will contain all of the participating businesses, the sandwich names, hours of sandwich availability, how to win prizes, and links to the full sandwich descriptions.  The goal is to eat as many grilled cheese sandwiches during the entire month of February as possible, earning stamps along the way which results in prizes and #giveaways from local businesses.  At the end of the fundraiser, the sandwiches are tallied and $2 of each sandwich sold is donated back to the YCAP Food Bank.  Maps will be available at the participating businesses, and this year we are introducing a "print at home" version that can be accessed on The Melt Down webpage www.yamhillcap.org/tmd2021 starting February 1st.
In total, 30 businesses in Yamhill County are participating. Some are familiar faces and fan favorites with a few new kids on the block: Amity Bakery & Café, Bistro Maison, Blue Moon Lounge, Brooks Winery, The By-Pass Bar & Grill, Collab Kitchen at Mac Market, The Common Cup, The Conservatory Bar, Coyote Joe's, The Diner, Golden Valley Brewery, Grain Station Brew Works, Great Harvest Bread Co., Growlers Tap Station, Harvest Fresh, The Horse Radish, Hunny Beez, J's Family Restaurant & Lounge, Jem 100, Laughing Bean Bistro, Morning Thunder, The Newbergundian Bistro, Pizza Capo, The Red Fork, Ribslayer BBQ To Go, Trade Street Taphouse, Two Dogs Taphouse, Wildwood Café,  Wildwood Hotel, and 1882 Grille.
Don't forget to join The Melt Down Facebook Group https://www.facebook.com/groups/yamhillcountymeltdown to enter to win prizes, receive more information, and have fun!
I look forward to ordering an abundance of grilled cheese sandwiches with you this February!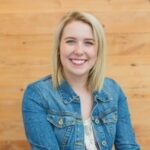 ABOUT THE AUTHOR— Taylor McLean-Down
Taylor is the YCAP Development Specialist.  Visit The Melt Down webpage at www.yamhillcap.org/tmd2021